Paul Domowitch sure had one hell of an article this morning on the Eagles
trading for Lorenzo Booker instead of drafting Felix Jones
.
Who would you rather have? this guy: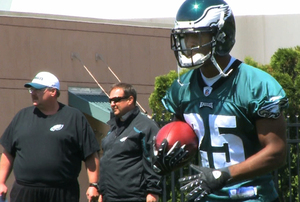 or this guy:
As Domo pointed out, those offseason decisions seem to be backfiring on all fronts. The Birds traded away their first round pick, 19th overall, to the Panthers for Carolina's first round pick in 2009 and two later picks in 2008. The Panthers are 4-1 and look to be the best team in the NFC South, meaning their first round pick in 2009 will most likely be worse than 19. Nice.
Meanwhile, Booker hasn't done shit. At all. While Felix Jones has been electrifying for the Cowboys. With Westbrook ailing, you would think Booker would be a prominent part of the offense, but the man has barely even made it onto the field. The reason has to be, at least in some part, that Booker just really isn't all that good.
Jones looks like a bona fide star. And he went 22 in the first round to Dallas. Meaning, had the Eagles kept their pick, they could have gotten Jones, helping to bolster an already dynamic backfield with Brian Westbrook and keeping him away from the Cowboys at the same time. Oh, and he could have been a good insurance policy in case, oh I don't know, Westbrook got a bum ankle or some broken ribs.
Just another boneheaded move from Reid and company. Man, how sick would the offense look with Jones, Westbrook and DeSean? We'll never know.