I know the Flyers play the Penguins tonight in Pittsburgh, and I am excited about that, but forgive me for putting that on the backburner to allow my excitement for basketball to take over. You see, tomorrow Villanova, Temple and St. Joe's open up their 2008-2009 season, and Saturday, while out at State College to watch a bunch of chokers play Indiana, I'm going to do everything I can to get in front of a TV in time for the unanimous preseason No. 1 UNC Tarheels (my favorite team along with Temple) as they take on Doug Glanville's alma mater, Penn, at 4. God damn I love college basketball.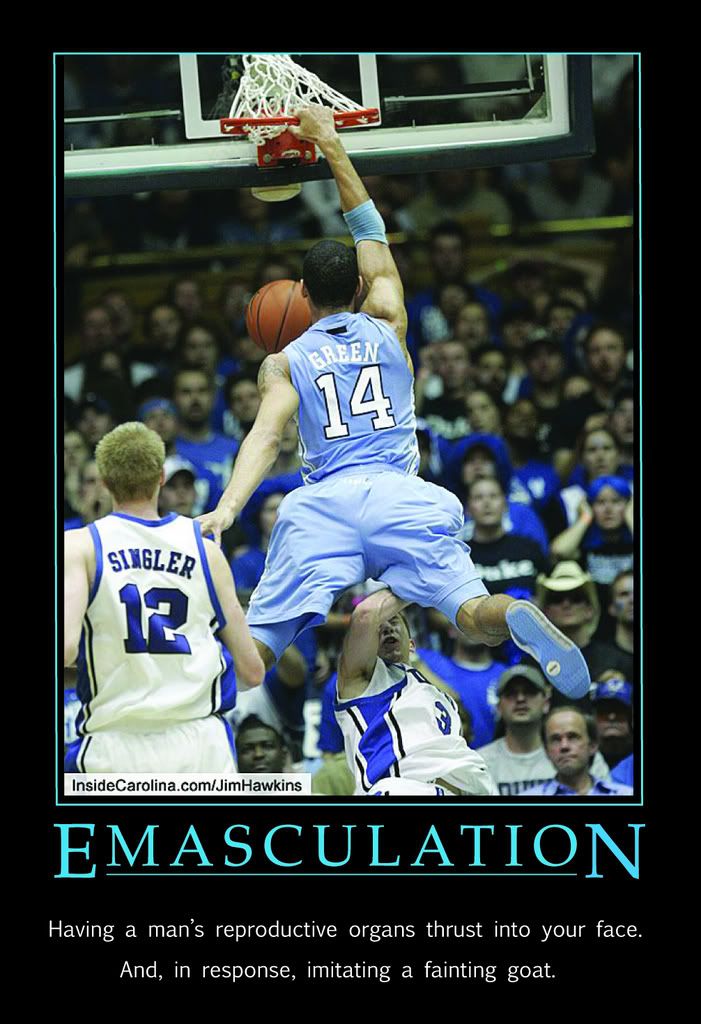 Oh yeah, and the NBA is in full swing as well, and last night I had the pleasure of taking in somewhat of a triple-header. Naturally, I began by watching the Sixers take on the Raptors in a rematch of the opener, and the Sixers came out of the locker room like their shoes were on fire. They built a huge lead, doubling up the Raptors 26-13 in the first quarter and getting it as high as 17, and I was excited. Until Chris Bosh completely took over and brought the Raptors all the way back to within a point late in the second quarter.
Here we were again, with the Sixers playing great in one quarter and awful in the next. Except Willie Green hit a three at the buzzer to end the half, giving the Sixers a 6 point lead at halftime. And that proved to be huge.
The Sixers allowed Toronto to hang around for a little while, but the Raptors are a good team so that's understandable. But in the end, the Sixers were too much, as they played tremendous defense, were smart with the ball and most importantly, ran. And finally, Andre Iguodala looked like the Andre of old. Sure, he shot an awful 5 of 13 from the field, but he got out on the brake, dunking the ball, and was everywhere. Shit, he finished a rebound short of a triple double, going for 18 points, 10 assists and 9 rebounds. And while his shot was not there, he was getting to line, where he did some damage, going 7 of 8. It was nice to see him back at it.
It was just a night for men named Andre. Finally, Miller looked like the most underrated point guard in the game that he was last season, epitomizing efficiency. He picked his spots effectively, attacking the backup point guards of Toronto with Jose Calderon limited with a hamstring injury to the tune of 18 points on 8 of 14 shooting, really helping the Sixers pull away in the 4th. But just as important, Andre figured out how to effectively integrate Elton Brand into the offense. All night long, Brand was hanging around the 12-18 foot range, and the Sixers were using him in pick and pop situations. Brand responded with his highest scoring output as a Sixer, leading the team with 25 points, finishing second in the game only to Bosh, who is just a fucking beast.
Again, the Sixers bench played a pivotal role in the victory, and again, it wasn't from the guys they brought in who I thought would help. In fact, Kareem Rush and Royal Ivey both got DNP-coach's decision, as did Theo, which should never happen. Theo should get at least 2 minutes a game to either get dunked on or send back a vicious block.
But still, the bench came up huge. Willie Green, who has been ineffective in the Sixers' losses and tremendous in their wins, was tremendous again last night, scoring 17 points on 6 of 10 from the field and 3 of 4 from three. He's been a pleasant surprise and the main reason Ivey and Rush aren't getting much run. And with Samuel Dalembert having one of those "pick up a ton of fouls Sammy games," Marreese Speights was asked to play 20 minutes and the rook responded. Speights was very active all game long and chipped in with 12 points, 7 boards and a block, not to mention hitting both his free throws. He's giving flashbacks to Thaddeus Young last season with his rapid development, and the kid looks like he's going to be a good one.
I have to say, given all the shit Billy King rightfully got, he started to draft well at the end of his tenure, selecting Iguodala, Young and Lou Will, and Eddie Stefanski looks like he's done well with Speights.
It was a nice win for the Sixers that they certainly needed, and it gives hope that they will be able to pull this together as they become more comfortable with one another.
I also got to watch the end of the Portland-Miami game. My impressions: Rudy Fernandez is sick as shit, Wade is reminding everyone that the best player in the world conversation doesn't necessarily begin and end with LeBron and Kobe (maybe it does), the Blazers are the most balanced team in the league and Beasley is not getting enough touches.
Jon Barry, brother of the most underrated, awesome player in the history of the world,
Brent Barry
, was gushing over Rudy. Now I know why. The dude is for real. He led the Blazers with 25 points on an insanely efficient 7 of 11 shooting, going 8 for 8 at the line and dishing out a sick assist in the second half. He's a damn good player on a team full of solid players. The Blazers won't be fun to play for anyone come playoff time.
The Heat, on the other hand, have Wade and Beasley and that's it. But they don't use Beasley. The man-child was simply a beast last year at K State, yet he's not getting the same touches this year. And why the hell not? Besides Wade (and with Marion out), who the hell do you want shooting the ball? The answer is no one. Beasley should be getting somewhere in the 18 shot range every night.
Meanwhile, Wade is just insane. He has to do everything for this team, and he does. At this rate, he'll be out of gas by Christmas. Miami has to do something to get this man some help. Last night he went for 36, marching to the foul line 15 times, and he had 8 assists, 6 rebounds, 2 steals and 3 blocks. He has less help right now than LeBron has ever had. But shit, it's fun as hell to watch him do his thing. I'd like to be in his 5.
Finally, I took in the Phoenix-Houston game, and much to my surprise, the best player in the first quarter was Shaq, who wound up being the best player for the Suns overall last night. The Big Cactus just loves to play Yao, and he was pretty awesome last night, going for 18 points on 7 of 12 shooting, nabbing 13 rebounds, dishing out 3 assists and blocking 4 shots. But even more impressive, he went 4 of 4 from the foul line. How? I have no idea.
Meanwhile, everyone else on the Suns sucked. Horribly. By the middle of the 3rd quarter, the game was over. McGrady once and for all established his alpha status on the team with Artest around, putting up 27 points and having an all-around strong game. Aaron Brooks continued to be a spark off the bench, and most impressively, Brent Barry had an insane behind-the-back pass to Carl Landry for a layup, which was named the NBA's
Assist of the Night
.
Brent Barry is the truth. Remember that.