In a former life, I was a sportswriter that covered many of the suburban high schools in the Philadelphia area. One of the schools I came across regularly was Norristown, and I covered a good number of the Eagles' basketball games last season.
And there was one player, who sometimes didn't even start on a loaded Norristown squad, that really stood out. He was a rangy shooting guard who often looked like he was just wandering out there, not physically exerting himself whatsoever, but in a matter of minutes, the kid would score 15 points, seemingly without trying. His name was Khalif Wyatt.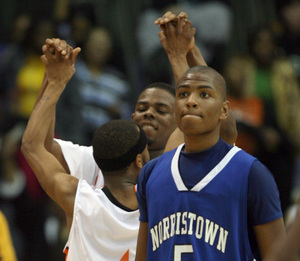 Yesterday, Khalif signed his letter of intent to play college basketball
at Temple
. And let me tell you something, if coach Fran Dunphy can reign him in, he's getting an impressive, explosive player, and I'll certainly be rooting for him.
I personally know someone directly involved in Norristown basketball who said to me the first time I watched him play, "Take a look at this kid. He's just unbelievable. He doesn't look like he's trying, and he's just unbelievable." And he wasn't joking.
When he wants to, Wyatt can score from just about any spot on the floor and get pretty much anywhere he wants. The kid can fill it up. And at times, when he was focused and determined, he could play some nasty defense as well, particularly impressive at jumping passing lanes to get steals.
I'm happy to see him go to Temple to hopefully fill the shoes of Dionte Christmas as a scoring machine for the Owls in 2009-10.