Last night, Villanova completely manhandled Fordham, 107-68. That's no surprise. What was surprising was the fact that
Shane Clark suited up and played
.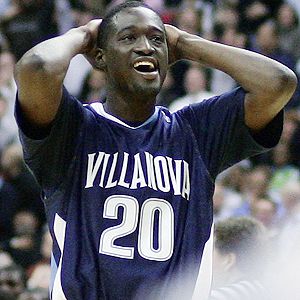 Just 10 days after arthroscopic knee surgery that was supposed to sideline him for 3 to 6 weeks, Villanova senior forward Shane Clark make a surprising return to the lineup Monday night.

Clark had eight points on 3-for-5 from the floor and one rebound in 16 minutes in the Wildcats' easy 107-68 win over Fordham.

"We had a film session yesterday and Shane came in from a doctor visit and said he was good to go," coach Jay Wright said in his postgame press conference. "Our trainer wasn't in there at that point so I said `We'll see.' I thought maybe Shane was just saying that, but I was shocked we got him back as early as tonight.

"He had a choice to play through this all year and could have done that but since it was such a minor procedure he made that choice. Shane was a little out of shape but it was great to get him minutes tonight. He makes such a difference for us. He is so smart and experienced and does all the little things. It was great to have him out there."

Said Clark: "I felt great out there. I was a little out of shape but it felt great on the floor to play with my teammates again ... Like coach said, it was minor. They just cleaned me out. I did all the rehabbing and was able to get back fast."
That's good news for Nova, and hopefully, this will be the year Clark breaks out to become the scorer Jay Wright and company foresaw back when Shane was playing high school ball with Kyle Lowry.