Dear Andre,
This is your pal the Reverend. I'm writing because I'm concerned. Very concerned. See, I wanted the Sixers to resign you. I really did. But when they inked you to a $80 million deal, I was taken aback. I mean, you played well and all last year, but $80 million good? Hell naw!
Well, you're proving my point. Right now, you stink. You're getting paid like an All-Star, yet right now, you aren't even playing like the third best player on your team. What the hell did you do all summer? Just buy a bunch of shit? How about trying to work on your game like that young fella Thad did? Look what it's done for him.
Instead, you started the season with a horrible 5-for-17 shooting performance, missing all 5 threes you took, missing three of 8 foul shots and turning the ball over three times. You followed that up with an even more pathetic 3-for-7 showing in 37 minutes for just 7 points, albeit in a win.
You finally had a somewhat decent game against the Hawks, going 6-for-13 for 16 points, but you also had 6 freakin turnovers and chucked some horrible shots at the end of the game that really hurt the team. And you lost. In the win against Sacremento, you didn't play bad, but no one on the team played bad. It was the Kings. And last night, well, you just plain sucked. 2 points, 1 of 7 shooting, 0 free throw attempts, just three rebounds and one assist with 4 turnovers. Pathetic.
Listen Andre, you aren't Allen Iverson. You don't have that skill set. Stop trying to break down defenders one on one. You can't do it. You have no handle. You have no jump shot. Your best asset is running the floor and dunking the shit out of the ball. Also, attacking the rim with a vengeance, getting to line. You aren't doing that at all. Just because you signed for $80 million doesn't mean you have to try and be something you aren't. Just be you. And stop sucking. For real.
Sincerely,
Reverend Paul Revere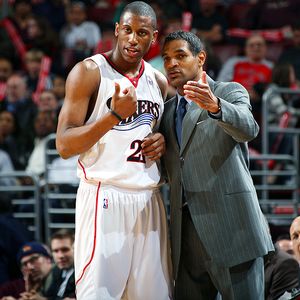 I also have a little bone to pick with you, Mr. Cheeks. First off, before the game started Bob Salmi said the Sixers coaching staff told him that despite Thaddeus Young's tremendous start, the Sixers had only called six plays for him all season. Guess what Mo, as Thad proved once again yesterday, he is the best player on the team right now. Run some God damn plays for the kid. He's killing it, in case you haven't noticed. And he sure as shit is about 8,000 times better than Iguodala right now.
Also, please, please, please, please don't ever have Iguodala guard Dwyane Wade again when you play the Heat. Andre is a pretty damn good defender, but Wade kills him every single time. Last night was another example. Wade is back. Big time. He was by far the best player on the court last night, scoring 29 points on 9 of 15 from the floor, 11 of 13 from the line, 7 rebounds, 6 assists, 5 steals and 3 blocks—one on Andre Miller that was just flat sick, a two-handed stuff up against the backboard that he grabbed, a la MJ as a Wizard.
Anyway, the Sixers got destroyed by an average Heat team. That was disheartening. The team is turning the ball over entirely too much, and Andre Iguodala is arguably the worst starter in the NBA so far this season. Somebody wake that man up. Fast.
But hey, at least the Phillies are
World Fucking Champions
.