With new Phillies GM Ruben Amaro Jr. saying the Phils weren't going to resign Pat Burrell before he could become a free agent, the speculation is that Burrell will be leaving town.
As sad as that might be given Burrell's up and down relationship that culminated with a World Fucking Championship, if
this rumor
is true, I'm all for forgetting about Burrell:

Rockies general manager Dan O'Dowd increased the likelihood Matt Holliday will be traded with his admission Wednesday he doesn't have to receive a proven starter in return.

O'Dowd is looking for the best deal, not the best pitchers, with multiple opposing executives predicting that Philadelphia and Oakland are the most likely trade partners.

"There is not much pitching in the market available. Period," O'Dowd said. "And any pitching we get will likely be projection pitching. Not that guy that has been there, done it. We are completely open-minded to anything."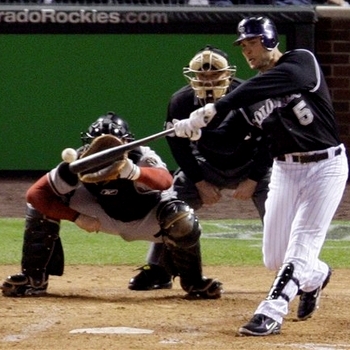 Oh wait, it gets a little better:
The Phillies could be frontrunners for Holliday as they had plenty of talks with the Rockies about him back in July, but a deal could never be finalized. If Pat Burrell leaves via free agency the World Champs will probably be a lot more willing to meet Colorado's asking price.
Please Mr. Amaro, make this happen. Make this deal. My head is about to explode contemplating a lineup that includes Jimmy Rollins, Chase Utley, Ryan Howard and Matt Holliday, not to mention Shane Victorino and company!
In in the infamous words of Nike, JUST DO IT!