I've been insanely busy yesterday and today at work, so I haven't really had any time to think, let alone write. But, I have decided to take a little time out of my day to attempt to dole out some links, and at the same time screw myself by procrastinating my work even further.
So enjoy.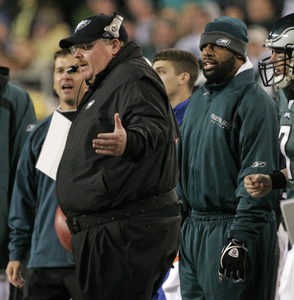 -
The Andy Reid School of Clock Management
-Remember that time Chris Gocong actually
did something
?
-This bitch is
suing Larry Johnson
.
Yeah, I'd spit on her.
-Watch a little kid get
tackled hard
.
-The Phils are
making moves
, like resigning Scott Eyre and Jimmy Williams elected to not return next year.
-Carlos Carrasco is looking
pretty good
these days.
-CC to Jeter:
"Think I'll fit in considering my A-Rod-like playoff results?"
-Grades for the
offense
and
defense
for Penn State vs. Iowa:
Defensive Coaching: C-

Angry. Very, very angry. Angry at the soft zones. Angry at blitzes that practically never work. Angry at the personnel choices. Angry that the team can't generate a pass rush when it's most needed.
-Quite possibly the worst
personal foul hit
ever:
-
Obscure Eagles jerseys
at the Linc Sunday.
-Yeah,
Fuck Duke
!
-Brad Lidge gets robbed, Tim Lincecum
wins NL Cy Young
.
Not that Lincecum isn't worthy, but, uh, Lidge was perfect in save opportunities, nearly unhittable and was the missing piece to propel the Phillies to win the World Series.
-
You Got Dunked On
. Check out Philly's own Hakim Warrick at No. 3:
-And just passed along by my roommate, this snippet from
John Smallwood
:
In the 2005 draft, the Eagles passed five times on 265-pound running back Brandon Jacobs, who gained 126 yards against them Sunday.

The Giants picked Jacobs 110th overall. The Eagles, who took Mike Patterson and Reggie Brown with their first two picks, selected linebacker Matt McCoy at 63, diminutive running back Ryan Moats (77) and safety Sean Considine (102) with Jacobs and Dallas running back Marion Barber (109) still on the board.
So yeah, nothing like taking Brown (stinks), McCoy (sucked balls), Moats (retarded) and Considine (worst safety ever) than drafting Jacobs (Pro Bowler) or Barber (Pro Bowler). Nice work, Andy.
-And finally, because I'm still not ready to move on, your
WORLD FUCKING CHAMPIONS
!