Gary Payton was a loud-mouth trash-talker who could easily get under your skin when the Sonics were playing whatever team you root for. He was also one of the greatest point guards to ever play the game, and the most dominant on-the-ball defender perhaps ever (Scottie Pippen as well?). He was also one of the Fun Police.
Today, there is a sweet
Q&A
with the Glove over at
SLAM
. He talks about his career, his friendship with Jason Williams and playing with Shawn Kemp, among other things.
SLAM: In Game 3 of the Finals, you hit a dribble pull-up, considered by many the most clutch shot of the series. Is it something that you remember well?

GP: I watched it on SportsCenter the next day, and then I never saw it again. What had happened on that play was that JWill and me had gotten close during the year. During a timeout on the bench he told me, I know you are going to be open to shoot because the Mavs are all expecting Wade to get the ball. You haven't shot all game so they aren't going to be looking for you to shoot. I am going to get you the ball and you are going to be open. And I hit the shot.
SLAM: Shawn Kemp also had a great series in 1996. Describe his impact on the game back then.

GP: Shawn and I are still great friends. He was an amazing talent. To come out of high school and junior college and do what he did at that time in the NBA was unheard of at the time. We started the alley oops and the highlight dunks. I can't say enough about how great and unusual he was as an NBA player. Those days in Seattle, it was the Reign Man and The Glove. It was an amazing time in my life and I was so happy to share the time with a friend like Shawn. He could post up, he could shoot the mid-range. He was much more skilled than he was given credit for, and that is because he was really was known for being the hardest dunker in the league.

SLAM: What happened to him after leaving Seattle?

GP: It was foolish to have broken that up, that combination of myself and Shawn. After Shawn left Seattle, it was all downhill for the franchise. He was one of the greatest athletes to have ever played the game, but he didn't show much of that after Seattle. I wish we could have stayed together. I think his career would have been a bit different. I think I could have helped keep him going in the right direction.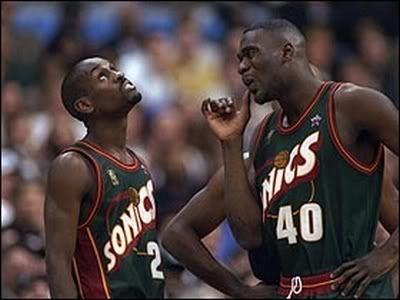 And of course, some sick footage of GP doing his thing.