We're just four games into the season for the Sixers and Philadelphia's new look currently sits at 2-2. Not bad. Admittedly, I didn't catch a whole lot of the first two games, but I watched a pretty decent amount on Saturday and the entire game yesterday.
I know it's extremely early for both the players and the coaches, but I'm going to try to just give a few of my early season observations. Front and center is not Elton Brand believe it or not. At least, not in my book. No, the early show stopper has been virtually everyone's pick to have a breakout year: Thaddeus Young.
Through 4 games, this kid has shown he's no joke. All summer long, we heard about Thad working on his outside shot and ball handling. But shit, no one could have expected this. In this young season, Thad is a legit three-point threat, shooting lights out from beyond the arc and actually looks natural doing it. Not to mention the guy showed last night he can absolutely put the ball on the floor and get to the rim. He's developed a nice tear drop and seems to be developing more and more confidence with each game.
Last night, Thad led all scorers with 18 points. Add this newfound offensive versatility to his tremendous defense, excellent rebounding and insane athleticism and you have the makings of a potential star. The kid is the real deal.
In fact, he's been stealing the show from the Sixers' biggest free agent signing of my lifetime. Elton Brand has been exactly what you'd expect—a very good scorer, excellent rebounder and a guy who is clearly going to make this team better.
Even though he went to Duke, I'm still excited he's a Sixer. I'm almost certain I know exactly what I'm going to get from the guy every night, and in his second game, he showed he can be dominant when need be: 24 points, 14 rebounds and 3 blocks.
And while Brand has been everything I expected him to be, he isn't even the second most impressive player to me this season behind Thad. Let me rephrase that. He hasn't blown me away as much as this next guy.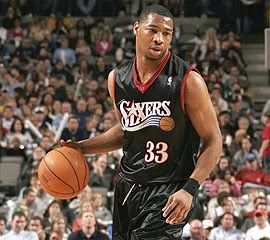 Yeah, that's right. Willie Green. I can't believe I just typed that either. But damn, the guy has played well, and it's surprised the hell out of me. With the acquisitions of Kareem Rush and Royal Ivey, I thought Willie Green would have a tough time just making the team, let alone getting playing time. Boy was I wrong.
Willie has combined with Louis Williams to form a potent, explosive backup backcourt. This duo has provided the Sixers virtually no dropoff when Andre Miller and Andre Iguodala leave the floor. It's been fun to watch both these players score at will, and even more fun to see Willie take the challenge defensively and step up. I thought he had no shot with those additions of Rush and Ivey, but he's proving he deserves the pt Mo Cheeks is giving him.
And speaking of Rush and Ivey, where exactly have they been? Maurice, can you please explain this to me? I know Ivey was serving a suspension for the first two games, but why was last night his debut? Isn't he supposed to be a pretty darn good defender that you could really use against 2 guards? And why the hell hasn't Rush been playing? When he finally got in last night, Rush did exactly what the Sixers signed him to do: drain all sorts of shots. He went 4-for-4 from the field and 2-for-2 from three. The guy can shoot, and he should get in the rotation here pretty soon.
As far as other surprises are concerned, consider the playing time of Speights this early on as surprising to me.
Don't get me wrong. I'm happy about this. The kid is a physical specimen and has played well. I just didn't think he'd get this much run this early. I'm glad he has. First off, he's been tremendous defensively. Last night, he completely embarrassed Sacramento rook Bobby Brown when he tried to dunk on him, sending it back with authority. Speights is the real deal. He's gonna be a stud. He already has a nice outside shot, can run like a gazelle, has rebounding skills and can protect the rim. And learning behind Brand can only help.
As far as the starters go, Andre Miller is Andre Miller. An underrated point guard who just simply gets the ball to players where they can do something with it. It's truly a joy to watch the way he runs the point. I feel privileged to do so.
Iguoadala is showing already that he is overpaid. I like the guy a lot, and I want him to be a Sixer for a long time, which he will. But he's not a go-to scorer. He doesn't have a great shot, and he takes a lot of really, really bad shots. In fact, in the Sixers losses, he was the biggest reason why, taking awful shot after awful shot. But, last night, he noticed he wasn't getting his shot and after the first quarter, he stopped forcing it. As a result, Thad and company flourished, and the Sixers looked potent. Iguodala is good at a lot of things, and the Sixers need him. But he needs to play like he did last night every night, no forcing bad shots. We don't need him to score 25 points per game. This team has a ton of players that can fill it up.
I have a feeling Sammy will lead the league in rebounding, and Reggie Evans' new free throw technique shows some tentative signs of being effective. Once Mo Cheeks can get his rotation down properly, keeping everyone on the court throughout the year, this team has the potential to be very, very good. Through 4 games, they are where you might expect, trying to feel each other out. But before long, this team could be a beast. And I'm excited about that.