Coming into the season, who honestly believed Penn State had a real shot at being a contender for the National Championship? The answer—no one. Not you. Not me. And certainly not the BCS. But, as they say, that's why they play the games.
The media did its best to
knock Joe Paterno down
, but the old coach went out and had his team shock the world … for a few weeks anyway.
He got up from the turf, and his Nittany Lions went out to steamroll everyone in their path in the early season. And after walking into the Horseshoe and coming away as victors, Penn State climbed the national ranks, getting as high as third. Suddenly, Penn State was crashing the BCS. And while a misstep in Iowa cost Paterno, and Derrick Williams and company, for that matter, a chance to shove it up ESPN's ass, this has been a heck of a good year.
Going into tomorrow's game, Penn State controls its own fate as to whether or not it finishes the season at the Big 10 champs. A victory at home against Michigan State would secure Penn State a trip to the Rose Bowl, and provide the Nittany Lions their second Big 10 title in four years.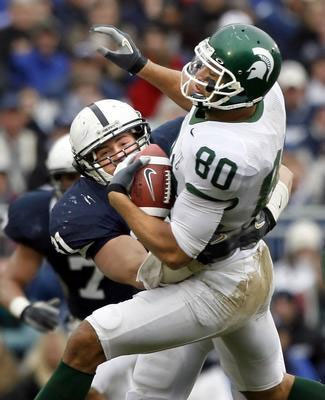 Not bad for a team and a coach that were left for dead by the media and (some) fans not too long ago. After all, Penn State had gone 5-6 in 2001 to start a tumultuous slide. Sure, the Lions finished 9-4 in 2002 (my freshman year), led by Larry Johnson rushing for 2,000 yards and the team having a wealth of NFL players—Jimmy Kennedy, Anthony Adams, Bryant Johnson, Brian Scott, LJ to name just a few—but that team was embarrassed in its bowl game, and the slide continued.
During my sophomore year, Penn State went 3-9. It was the worst season ever, or so I thought. The following year, Penn State finished 4-7, but played the most horrible game in the history of sports, losing at home to Iowa 6-4. Sure, Penn State had a tremendous player in Paul Posluszny, but all hope seemed lost for this program.
And then, something funny happened. The top recruit in the nation, Derrick Williams, decided to come to Penn State. He wanted to restore the tradition at a once-vaunted program. And his decision to come to Penn State, to change the culture of Penn State football, was the single biggest thing to resurrect Joe Paterno's career.
D-Will hit the recruiting trail himself, taking it upon himself to convince more top recruits to call State College home. He got Justin King to commit. And from the moment he stepped foot on campus, the aura around the program changed. No longer were players hanging their heads. They were confident. They were excited. They were determined.
Derrick Williams brought the excitement back, and his presence, along with the anointing of Michael Robinson as the team's quarterback, helped Penn State regain its place in college football. Williams was the dynamic sparkplug that Penn State had waited so long to get, completely blowing the doors off of any freshman in the country before a broken arm ended his freshman season.
And with the help of Williams igniting a dormant offensive scheme, opening up the playcalling, Michael Robinson showed the maturity and leadership that just simply cannot be taught. It's just something that some guys have. Michael Robinson was a born leader. A freakish athlete, he did whatever the coaches asked of him. With Zack Mills (rightfully or wrongfully) as the team's quarterback, Robinson played wide receiver. And running back. And yes, even quarterback, biding his time for his turn.
When he finally got it, he took the excitement that D-Will had brought in and came one second within an undefeated season. Nonetheless, with the help of Tamba Hali, Poz and Dan Connor on defense, and yes, Derrick Williams and fellow freshmen wide receivers Jordan Norwood and Deon Butler, M-Rob, with quite a helping hand from Tony Hunt, led Penn State to the Big 10 title.
Three years later, Derrick Williams and company have accomplished a lot. Deon Butler became Penn State's all-time leader in catches. Jordan Norwood showed that size really doesn't matter. And Derrick Williams not only scored more kick/punt return touchdowns than any Nittany Lion ever, but he saw his dream come to fruition. Almost. You see, Williams wanted nothing more than to deliver a national title back to Penn State, but, just as he had as a freshman, the senior saw his team fall just short. One stumble, and the dream was over.
But the importance of Derrick Williams' decision to come to Penn State cannot be overstated. Yes, he had a slump of sorts his sophomore year, and people expected much more out of him last year. But this season, Derrick Williams has played like the guy we all expected, and, just as importantly, he grew into the leader of this team. And tomorrow, he and his fellow seniors have a chance to do something that has never been done for any class at Penn State—win its second Big 10 title.
And while that may not be the ultimate goal, it's not to bad either.