Friday night, the journey began. Arkansas Fred and I embarked on our final trip out to State College for the 2008 season, and let's just say the night ended with Arkansas Fred puking on my car. I'm not really sure what type of omen that was, but one thing was for certain, it was colder than a witch's tit on Saturday.
We entered Beaver Stadium an hour before kickoff, in time to watch the seniors warm up one final time. And with Penn State controlling its own destiny for the Big Ten title, with only Michigan State in its way, the captain, the leader, the man who put Penn State back on the map, Derrick Williams, was fired up. During the team stretch, Williams was going nuts, yelling, screaming, firing up his teammates, knowing this was his final time playing in Beaver Stadium, in front of his fans, with a chance to win his second Big 10 championship.
Upon laying my eyes on D-Will, one thing was for certain: Penn State was going to win. There would be no letdown, no hanging of heads. These Nittany Lions were headed to the Rose Bowl, and there was nothing the Spartans could do about it. In the freezing cold, in the snow, with fans unable to feel their feet, Penn State made all 110,000-plus in attendance feel warm inside.
Daryll Clark returned to his early season form. And the seniors had big days in their final home game. After underclassman Graham Zug opened the scoring on a 5-yard TD pass from Clark, Dan Lawlor got the seniors rolling with a 4-yard TD run. The triplets, Jordan Norwood, Derrick Williams and Deon Butler, had huge days. Norwood led them all in receptions with 5 for 127 yards. Butler was amazing, catching three balls for three touchdowns and 133 yards, including a 70-yarder and 59-yarder. And D-Will, as fired up as ever, caught 4 balls for 51 yards including a 32-yard touchdown.
Daryll Clark had his most impressive game to date, torching the MSU defense for 341 yards and 4 scores. And the defense was dominant, holding Javon Ringer in check all game long. Everyone got in on the act. Lydell Sargeant picked off a pass in his final home game, as Navorro Bowman lit up Brian Hoyer on a gadget play by Michigan State that did not work one bit. I thought Hoyer was dead.
Ånd there were some really great moments in the game, from the seniors chanting, "We want Paul," and getting their wish as senior quarterback Paul Cianciolo entered the game late, to Penn State continuing to roll up the points, throwing bombs even as Pat Devlin entered in the second half, to the timeouts for Penn State to take out its seniors, who received tremendous ovations from the fans, to Michigan State showing its class by using all of its timeouts at the end of a blowout game in the freezing cold just to make everyone suffer a little more. You stay class, Michigan State.
It was a glorious day. Penn State is heading to Pasadena. Joe Paterno isn't going anywhere. Penn State is back. And we can thank all the seniors for that, especially Derrick Williams. Now let's hope Oregon State can find a way to lose, so we can see the Lions topple USC in their own backyard.
After a victory celebration that consisted of food rather than alcohol, Arkansas Fred and I drove back to Philadelphia in time to watch the Eagles on Sunday. With a bunch of friends and the two of us headed to the Sixers game at 5, we all watched the Eagles lay another egg, this time in Baltimore, at my house.
Really, there isn't much I can say about that game. It was comically bad. McNabb was comically bad. Kolb was comically bad. Andy Reid was comically bad. There was a blocked punt, 5 turnovers, and a 108-yard interception return for a touchdown. There was no offense, really, and the Eagles officially were left for dead. And the worst part about the entire thing is that Andy Reid looked more lost than he did even last week.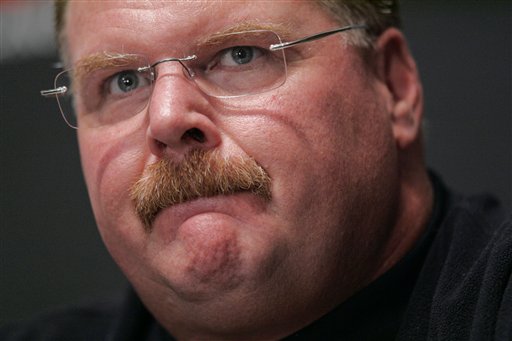 He benched a pitiful McNabb without even having the guts to tell him himself. He dressed just two actual running backs, one of which got hurt, the other who is playing hurt. Basically, every decision Andy Reid has made since the Super Bowl year, except signing Jeff Garcia as a backup, has been wrong. Every personnel decision, every game time decision, hell, even every clock management decision.
Two things have become entirely too clear this season: the Donovan McNabb era in Philadelphia is over (he'll probably go win a Super Bowl in his native Chicago), and Andy Reid has lost his ability to lead. You can point to his record, his playoff births, his division championships, and they all have merit. They surely do. Andy Reid has done a masterful job over the years, reviving a franchise that was brutally beaten and left for dead by Rich Kotite and Ray Rhodes. But that run is over.
Since 2005, the Eagles have been mediocre at best. They have been regressing while the teams around them have caught up and surpassed them. This year, they look incompetent, Reid looks incompetent. That's not to say Andy couldn't go somewhere else and be successful. But it won't happen here, where he has become stale and delusional. The NFL is a league based around what have you done for me lately, and lately, the Eagles under Reid's coaching and personnel decisions have done jack shit. They're awful. And I think a 3 or 4 year window to get back is more than enough time to determine that it just isn't working anymore. It's about winning now, or the very near future, and Reid just hasn't been able to give this team enough of a chance to win for a few seasons now. Time is up.
Unfortunately for us, time probably isn't up in Jeff Lurie's mind.
But luckily for me, I had a chance to get my mind off the Birds as we attended the Sixers. Thanks to Joltin Joe's boss, we scored some pretty sweet seats to see the 76ers take on Golden State. And it was a fun game to watch.
Sammy Dalembert came out hustling his ass off in the first quarter, crashing the boards and blocking shots. And that set the tone.
Andre Iguodala wasn't forcing shots, Andre Miller was doing his thing, and Elton Brand was earning his paycheck. The Sixers were having their way with the Warriors and built up a 57-35 lead at halftime. Meanwhile, we had a great view of the Sixers dancers and the upgrade couch, and let me tell you something, those young ladies are all right.
In the second half, the Sixers couldn't score at all much of the way, and Golden State made run. Thankfully, Thaddeus Young hit a couple big shots, and the Sixers played some strong defense down the stretch to hold on. It was a nice win.
But the most entertaining part of the night, besides the sweet Iguodala dunks and the freakish athleticism of Anthony Randolph, was this thug-wannabe jackass trying to pick fights with everyone. His friend did not have his back at all. This guy was wearing a Rowan sweatshirt and a winter hat (indoors, mind you), was drunk out of his mind, and was inexplicably rooting for Golden State when the Warriors made their comeback, while his friend was wearing an Eagles hat. Odd.
Either way, this clown seemed to have no idea what basketball was about. He kept signaling, in an odd fashion, what seemed to be a first down sign each time Golden State did something positive. He also stood up a lot and turned around. It was curious to say the least.
Thankfully, the Sixers pulled it out, otherwise someone may have actually jumped the moron, instead of just laughing at him. Fun times. Fun times.
Anyway, it was overall a pretty good weekend. I couldn't have really asked for anything more out of Penn State against Michigan State, and watching the Sixers play pretty well in person was fun as always. I expected the Eagles to lose, so it didn't hurt as bad as it could have. And tonight, we can get right back at it with the Flyers and Sixers in action.