I have opinions about what may or may not happen in the playoff matchup of the Philadelphia Eagles visiting the New York Giants. I believe that the Eagles will win. Although, Angelo Cataldi's pick this morning on WIP of the Eagles winning if L.J. Smith does not play and them losing by three if L.J. steps foot on the field has a lot of merit as well.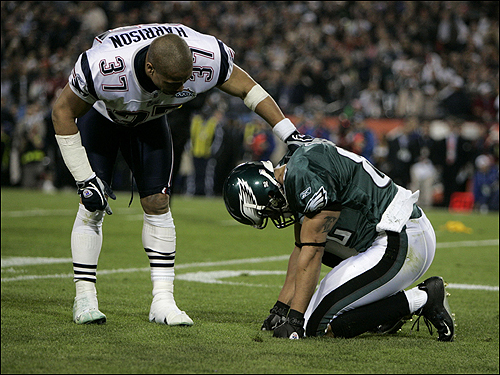 I will give you now my only two reasons why I believe the Eagles will defeat the Giants.
1. Plaxico shot himself. That alone takes away the best offensive player the Giants had. The Eagles' cornerbacks can cover any one of the Giants' receivers one on one. With Plaxico, they had no shot of man coverage. Since he does not play anymore, the Eagles can stack the box and send the house on blitzes, thus making Eli do the Eli Face.
B. Brian Dawkins. Sometimes just looking at that man, you got to believe that he just will not let them lose.
Those are it. Brian Dawkins and Plaxico Burress. The only reasons needed to why the Eagles will win.
Also, here is what I hope will happen. Andy Reid, sensing that Brian Westbrook has been a bit banged up and slow the past few weeks, uses Buckhalter in the running game and does not give up on the running game. While on the subject of Andy, PLEASE, PLEASE PLEASE, if the wind is bad, do not start the game by throwing 3 straight times.
Brandon Jacobs will try to jump over an Eagles defender and someone, Weapon X???, will jolt up into the air and blast one of his testicles into oblivion.
Donovan "prevails" again and runs for the sure first down.
Brian Westbrook gets Antonio Pierce in single coverage.
The teacher, the real Jim Johnson, outlasts the student, Spags, in the second week in a row of a Philadelphia disciple being highlighted in the playoffs.
The Giants fans go home cold, bitter, and pissed off and on.
A final note, myself and Donovan McNabb share a lot of things in common. I once wore number 5. I broke my ankle playing football a week after he broke his ankle playing football. I was at the NFC championship game in 2005, just like him. We are both underappreciated and we both do not like running. I have been called an idiot and a moron in newspapers and online, as has Donovan. Unfairly at times on that last one for Donovan. We both have cursed at TO.
So anyway, as someone with a lot in common with Donovan McNabb, if you are using the benching as motivation and continue to play good enough to win, then that's just great, but if you are just whining because your feelings are hurt, then just shut up. The whole they didn't get benched though comment about the defensive line of the Giants was just amazing and not really needed. [
Ed note: It was a joke.
]Just drop it in the media.
And for the hell of it, I hate Robbie Gould and I wish his leg fell off.