Last night was not bad. Not bad at all. Two of the three teams I was rooting for won, with the Flyers topping Atlanta 5-3 and North Carolina rolling past Clemson 94-70.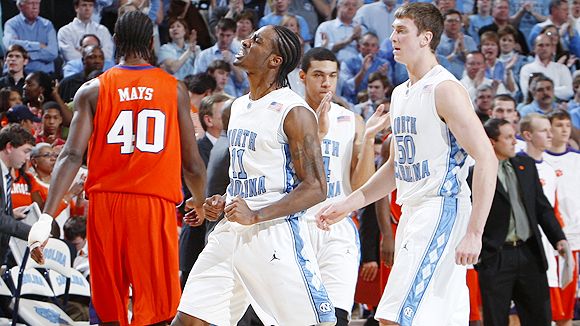 Unfortunately, Villanova lost another close one to a good team, losing 89-83 up in Connecticut.
First off, I'd like to say just how soft my roommates are. I, being a man and all, was all set to watch the Flyers and Villanova at the same time, using the wonderful split screen action on our humongous TV. And I did just that for the first period of the Flyers and the first half of the Nova game. But then my roommates decided "Lost" was more important, forcing me upstairs to my bedroom, flipping back and forth like a caveman. Bullshit.
Well, seeing as the Flyers were up 3-0 thanks to a dominating first period-plus with goals by Scott Hartnell, Darroll Powe and Randy Jones—and some tremendous play by Scottie Upshall—I decided to settle in on the very close Nova-UConn game.
That was one hell of a game. Nova played a tremendous first half, going into the break with a 48-48 tie, even with leading scorer Dante Cunningham saddled on the bench with foul trouble. Corey Fisher and Antonio Pena lead the way in an up-and-down first half. And the game remained close for the first 10 minutes or so of the second half, but then Dante picked up another foul, and UConn made its run.
First off, I'd like to state, A.J. Price is scary good. Last night, he was hands down the best player on the floor. The senior point guard scored a career-high 29 points on a ridiculous 10 of 13 shooting, including 4-6 from three and 5-6 from the line. He and Jerome Dyson completely owned Nova, doing whatever they pleased.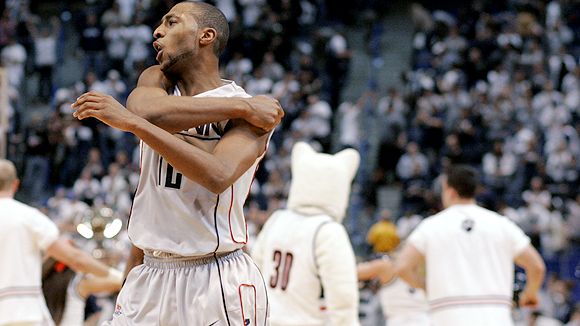 The play that really seemed to turn things around was when Nova threw an ill-advised pass that Dyson intercepted with a clear path to the basket. He raced to the hoop with Corey Stokes trailing, thundered home a dunk and was pushed slightly in the back by Stokes for the intentional foul. Two points and two at the line. That's where the game turned.
Cunningham fouled out early, but his absence was negated by an ineffective Hasheem Thabeet, who also wound up fouling out. Nova looked like they were dead when suddenly, unexpectedly, they got a spark from Reggie Redding, who had a tremendous second half. Nova fought all the way back to make a game of it, but in the end, UConn was too much for Villanova.
So once again, Villanova played a good team, and once again, they lost. Nova is now 0-4 against the four good teams they've played. Not good. And speaking of not good, Scottie Reynolds again showed me he just isn't quite the player he should be by now. With Cunningham out, Villanova needed its junior point guard to be the guy. But he wasn't. Reynolds showed no aggression, no desire to take over, even as his counterpart, A.J. Price, was doing exactly that for UConn.
These are the kind of games that a three-year starter is supposed to rise to the challenge, take it upon his shoulders and carry his team. Reynolds did none of that, and he didn't look like he wanted to. At times, Scottie can be the best player on the court. When he's aggressive, assertive and demanding the ball. But too often, that Scottie is nowhere to be found. And again last night, he was absent when the Wildcats needed him the most. Now Villanova is 2-3 in Big East play with quite an uphill battle to climb. Hopefully the good Scottie will resurface before it's too late.
After Nova failed to get a statement win, I flipped back over to the Flyers. The Thrashers had scored while I was away, making it a 3-1 game in the third. And what I saw next was embarrassing. The Flyers seemingly quit playing, allowing Atlanta to score two more to tie it—3 unanswered goals in all—with 9 minutes left in regulation. And I was pissed.
I just watched Villanova lose another game, and now the Flyers were choking away a three-goal lead in their final game before the All-Star break. And just when it seemed like all the momentum was in Atlanta's favor, Mike Knuble came to the rescue.
Knuble stuck with his own shot, banging home the rebound just a little over a minute after the Thrashers tied it to give the Flyers the lead. Then he iced the game with an empty-netter after a few spectacular saves by Antero Niittymaki. The win brought the Flyers within a point of the Rangers and two points of the Devils in the Atlantic, with two games in hand on New York and a game in hand on New Jersey, thanks to the heroics of Knuble.
When the Flyers signed Knuble back in 2004, I thought it was a solid signing, but never thought he'd turn into a go-to type scorer. In his four years as a Flyer, Knuble has seemingly gotten better each and every season, and really, he's been a mainstay on the top line since coming. His presence with Simon Gagne has been a steady duo of speed and size, with Gagne doing the skating and Knuble playing the role of John LeClair, hovering around the net and pounding home rebounds. Say what you want about Bobby Clarke the GM, but the guy hit a home run by signing Knuble. I'm quite happy he's in Philadelphia, especially last night.
After the Flyers held on for dear life to get the win, I watched UNC dismantle No. 9 Clemson, who hasn't won in Chapel Hill ever. And that streak didn't change last night. Things are simple for the Tar Heels: When they play defense, they are nearly unbeatable; when they don't, they can be beaten. Simple as that.
Well last night, they played defense, and Clemson had no chance. None. And while Tyler Hansbrough was Tyler Hansbrough, two players really took this game over: Philly's own Wayne Ellington and speedy point guard Ty Lawson.
Wayne Ellington simply kills Clemson. Last night, Dickie V. said, I believe, that Ellington was averaging 29 points per game against the Tigers in his career. That's pretty insane, and he was on fire again last night, scoring a game-high 25. Somehow Roy Williams needs to find a way to convince Ellington he's playing against Clemson every game.
And as good as Ellington was, Lawson was the catalyst that got things going. His steal and cruise to the bucket for an easy layup early in the game set the tone and knocked the Tigers out. At that point, the game was close, but that got the Tar Heels out and running. They never looked back.
The victory showed once again that if this team defends, they can easily get to the Final Four and potentially win it all. Now they just have to commit to it each and every night.
All in all, not a bad night. Now if someone would just wake Scottie Reynolds up. And convince my roommates to watch "Lost" somewhere else. Then everything would be perfect.