Here's a little known fact: I graduated from Penn State. OK, maybe it's well known, but nonetheless, I spent four years out in State College, living and breathing the same air as the likes of Larry Johnson, Tamba Hali and Paul Posluszny.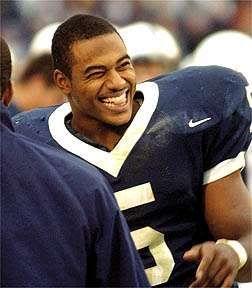 I also was forced to watch the supremely talented Derek Wake completely suck at playing football. Wake was a huge linebacker with good speed and a freakish ability to leap higher than anyone who has ever put on the pads. Instantly, Arkansas Fred and I pulled for the guy to get on the field because of the insane ability he possessed.
Then, he actually did get on the field. And he sucked. A lot. The guy was not a good tackler, had absolutely no concept of staying in lanes, and was routinely lost and out of position on the field. I think it's safe to say that during his time at Penn State, he wasn't the smartest guy in the world.
I'm pretty sure that's him celebrating above in Penn State's 6-4 home loss to Iowa. What. A. Douche.
Well, thanks to a friend of mine who shall remain nameless (*
cough
*Jeff Huff*
cough
*), I learned that
things have turned around
for dear old Derek Wake … or should I call him Cameron Wake.
Apparently, Mr. Wake decided to drop the Derek and go by his middle name, Cameron, and flee to Canada. Good idea on both fronts, seeing as Derek Wake sucked at football and Canadians are dumb.
Well, evidently the name change worked out. Wake supposedly had a nice time up in Canada, even playing football moderately well. Now he's a Miami Dolphin. That's right,
Derek
Cameron Wake is now in the National Football League. I am stunned.