So now we know the person who will be taking over Pat Burrell's spot in leftfield and potentially the No. 5 spot in the batting order:
Raul Ibanez
.
The Phils inked Ibanez to a 3-year, $30 million contract, considerably cheaper than what Burrell will be for about the same production … if not more. Ibanez is coming off three straight 100-RBI seasons—123 in '06, 105 in '07 and 110 in '08—with a .286 career batting average and a little faster than Burrell. Those are all pluses.
Here's the thing: Ibanez is another lefty, and when you look at his production, he's pretty much a lock to bat 5th. That means the Phils will go Utley-Howard-Ibanez back-to-back-to-back, setting it up nicely for teams to bring in the old lefty reliever. Good thing J.J. Putz and Frankie Rodriguez are both righties, huh?
I gotta say, this is a good move, but that three lefties in a row thing may cause the Phils some problems. Now, they have to lock down the pitching front, resign Moyer or somehow go get Lowe. I like the move, but this also puts to rest any dreams of getting Matt Holliday, whether before the season or at the trade deadline. That makes me sad because Holliday is younger and better than Ibanez, and right-handed.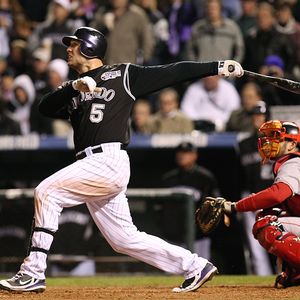 But that was probably wishful thinking anyway. Holliday is already gone and likely too expensive for the Phils blood. Still, I think this a good move overall. Ibanez is a good, professional hitter, and he'll make the Phils better … even if it makes some matchups worse.