When most people watch basketball, they watch for the star players—the ones that impose their will on the opposition and seemingly make anything look possible. But they also watch to see the stars score and score a lot. They want Allen Iverson to shoot at every opportunity, get his 30 or 40 or 50. They want Dwyane Wade to hoist 30 shots. They want LeBron to go for 50, Kobe for 81. Maybe that's why Kevin Garnett got so much flak in Minnesota when he passed up contested shots to get his teammates easier ones.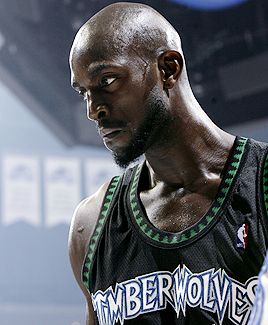 It's also why players like Lamar Odom and Rasheed Wallace drive the masses insane. These players have endless talent, can do anything on the basketball court, but often do not impose their will to ascend to the heights of Jordan or Wilt. We want to see them shoot. We want to seem them put up gaudy numbers, hit for 50, dish out 15 and nab 20. But really, that's not the point.
Sure, a guy like Lamar Odom or Rasheed Wallace could score near 30 points a game, but there's a very real possibility that that could take away from their game, disrupt the chemistry, hurt the team. And Lamar Odom, who one would think would be moody, sullen and jacking up shots every chance he got with this reduced role and reduced minutes this season for the Lakers, reminds us all what
basketball is really about
:
"The game is called basketball, not shoot," he said. "You can play a complete basketball game without shooting a lot of shots. There aren't too many guys that can do it, I just happen to be one of them."
Indeed, the game is called basketball. Not shoot.