I was minding my own business today when I received word, via a phone call from the Rev., that Penn State has gotten a verbal commitment from, whom Scout.com rates as a 4 star quarterback, Kevin Newsome. This was great news for the Nittany Lions especially in wake of the leaving of Pat Devlin.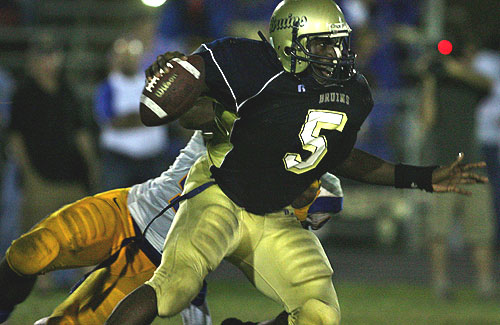 Newsome is a big quarterback with the ability to run the ball well. He should have a year behind current starter Daryll Clark and then take over. I also must add that Newsome previously committed to Michigan and decommitted. That makes life that much better. I hate you Michigan. You go to hell, you go to hell and you die.
With that bit of good news, I thought my day couldn't get any better, but then I received a phone call from another friend telling me that Joe Pa is getting a three year extension. Maybe people can shut up for a while about retirement and let the guy do what he wants. I look forward to many more years of Joe Paterno as Penn State's head football coach.
On a side note, I was all for the DeSean Jackson pass last night. I love the running toward the line throw. Unfortunately, the defender made a hell of a play to intercept the ball. God forbid anything ever happened to Donovan, I would rather Jackson run around in the wildcat offense then ever see Kevin Kolb throw another pass. I hate Kevin Kolb. He represents everything that is wrong with Andy Reid. He is the representation of every draft where Andy forgets to help out Donovan with weapons and talent. If you are going to pick a quarterback of the future, while you have a great quarterback, then that guy better be a fucking stud, can't miss prospect. I'm sure Kolb is a nice man, but I will be in mourning if the day ever comes where he is the starting quarterback.
Sorry about that, Andy Reid is a douche. I can't help complaining sometimes. On another semi funny note, at the game last night a girl, in her early 20's, was at the game sitting in the section to the left of me and was not enjoying the game at all. She obviously did not want to be there and had no interest in football. She was practically sleeping, when a gentleman behind her accidentally slipped and spilled beer all over her. She was none too pleased but what made it better was the man taking his one napkin and trying to dry off her hair as she stood there furious. If you don't like sports or are a woman, just give your ticket to someone who deserves to go to the game. A fan of the game and the team. Do not waste the ticket, help out those who would enjoy the game and have it mean something to them. You people deserve beer spilled on you.