Now that I have some added time, I figured I'd also weigh in on the 5 football players I hate from Penn State that immediately came to mind. Oddly enough, they are all white.
1. Robbie Gould.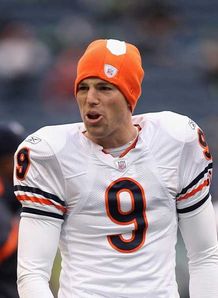 Worst kicker in the history of Penn State. In my junior season, Penn State lost to Iowa 6-4 in the worst game ever played. Robbie Gould missed a 25-yard field goal in that game, wide left. And it was ridiculously wide left. Not even close. He should be shot. This motherfucker couldn't make a kick if his life fucking depended on it at Penn State. Then he goes to the pros somehow and makes the Pro Bowl. Die, Robbie Gould. Die a terrible, embarrassing death.
2. Anthony Morelli.
If there's ever been a dumber quarterback in the history of football, I've never seen or heard of it. Morelli came in as a pretty big deal with a big arm. He turned into a horrible quarterback with a big arm. Morelli couldn't hit the broad side of a barn, unless that barn was wearing an opposing team's jersey.
For his utter stupidity and horrendous play, Morelli's right arm should be amputated. Then he and Jay Paterno should be beaten to death with it.
3. Andrew Guman.
I hate gingers, especially when they play safety yet cannot hit, cover or catch a football. To top things off, Guman couldn't run either. Essentially, he was the worst safety you could ask for. However, apparently he had a hot sister who my roommate used to chat up. But they never hooked up. So fuck you for that too, Guman. You asshole.
4. Josh Hull.
The Andrew Guman of linebackers.
5. Robbie Gould. Yes, I hate him that much.