Tonight, I'm going to see the Flyers take on the Islanders at the Wachovia Center, so get ready for some hockey tomorrow. Today, we gots the links.
-Last week, I
gave Jay Wright some love
. Sports Illustrated just
did the same
, via
The700Level
-Monday night excitement. First, Steve Young
got cracked in the face
with a cup:
Then, Antonio Bryant made
a sick catch
:
-C-Webb and Vlade will have their
numbers retired
in Sacramento when Peja's Hornets are in town.
-Dwyane Wade
is sick
:
-Also, just a reminder, visit
You Got Dunked On
and
Hip 2 Da Game
to get your daily dunking fix and hip hop/sports updates, especially if you like Philly's own Freeway.
-Apparently, Patrick Ewing
looks like his 22-year-old son
, according to the NBA.
-Via
The Angry T
a
funny sign
:
-A little help for the Eagles: Chris Samuels is
done for the year
.
-
HHR
directs us to an informational post on how Allen Iverson's
hairstyles reflect the news
.
-Phillies are reportedly
involved in a potential mutli-team trade
involving Peavy … with the Phils getting Penn product Mark DeRosa and maybe Jason Marquis.
-
Sam Carchidi
and
Ed Moran
both chronicle the Flyers' struggles at even strength.
-What Andy Said,
What Andy Meant
.
-JoePa plans to be
on the sidelines
for the Rose Bowl.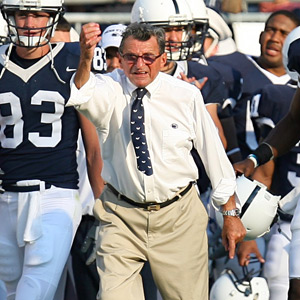 Tonight, Villanova takes on Texas, and believe me, I'll be watching the second half once I get home from the Flyers game.