Clearly his alma mater needs him. I mean, the Yellow Jackets lost to my alma mater, Penn State, last night. Maybe Steph can get permission from the NCAA to use his remaining eligibility.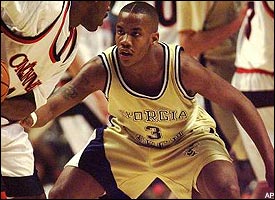 In all seriousness, this is pretty stunning to see. Sure, Penn State is now 7-1 on the year, but it's not too often they beat actually decent ACC schools. Last night, the Nittany Lions did.
I didn't see most of the game because I was too busy watching the Sixers get destroyed by the Lakers, but I did flip to it often and saw the final minute. I gotta be perfectly honest with you here, Penn State honestly looks like it has some legitimate guards. Stanley Pringle (despite his
hand love in the library
) and Talor Battle are legit. They're both quick, aggressive and can score. Basically, they're the complete opposite of Ben Luber.
Battle and Pringle combined for 40 points and really showed that they have game. Unfortunately for Penn State, they have absolutely no size inside, so there will be times they'll struggle mightily this season. However, it was a nice win that proved the Lions won't be an easy win on the schedule for their Big 10 opponents, mostly due to Pringle and Battle.
As for the game I actually watched in its entirety … the Sixers simply got rolled by the best team in the West. Kobe played the villain to the city he turned his back on quite well last night, making the game look easy. He scored a game-high 32 points, often simply just rising over his defender to drain a jumper. The guy is just too good.
But Bryant wasn't alone. Pau Gasol and Andrew Bynum had their way inside. Early on, the Sixers built a 10-point lead and looked primed to give the Lakers all they could handle, but when Sammy Dalembert picked up his second foul, the LA big men went to work. Pau and Bynum felt no threat inside with Dalembert out, scoring easily over Brand, Ratliff and Speights all night.
And speaking of Brand, man, he sucked last night. He was just simply awful. He showed that he stands virtually no shot playing any sort of athletic 7-footer. He routinely had his shot blocked or altered by Bynum or Gasol and looked like a D-League power forward, not an all-star.
A performance like last night out of Brand (1 for 7 from the field, 3 points, just 5 boards) is why I
wasn't thrilled
when I heard the Sixers signed him. He's a really, really good player. An All-Star even. But a superstar? Doesn't look like it. Now, I know it was just one game against quite possibly the best team in basketball, and I'm sure Elton will be fine, but man did he suck last night.
And the other night, I heard some players talking about how it's hard to adjust to the new style, especially for Dalembert, because last year the Sixers just ran and ran and ran. That's why I championed for the Sixers to try and
sign Josh Smith
, even though he was a restricted free agent. He fit in with the Sixers' style from last season and would have added a stud to the fold. While Brand is certainly a stud in his own right, his style doesn't mesh well with the team that gave the Pistons a jolt in the playoffs last year. Maybe that's why the Sixers, specifically Dalembert and Lou Will, are struggling. Maybe not. Guess we'll find out.
Oh, and also, so much for my thoughts on when
the Andres play well, the Sixers win
. Miller had 26-8-5 and Iguodala had 19-5-5 and the Sixers still were handled easily. Although, I think my point still rings true, assuming Brand plays to his averages. I mean, of course they won't win when he only gets three points.
And honestly, I know Andre Miller was feeling it early on, but he needs to stop shooting so damn much. His biggest strength is getting his teammates involved, but this year, he seems more concerned with scoring, at least of late. Stop chucking that ugly-looking shot Andre, unless the team absolutely needs it.
One final note: I watched the UNC game last night, and it was just dumb. I mean, the Tar Heels are demolishing everyone in their path. They trounced one of the best teams in the Big East last week and crushed what was supposed to be a really good Michigan State team last night. Barring any injuries, this team will roll through the season.
Their entire starting five will be playing in the NBA, and it looks like Ed Davis is on that path as well. It's not fair right now. As Dickie V. said last night, they are an NBA team playing college kids. Everyone is awesome, and the team will only get better when Ginyard comes back. They are scary good.
And in honor of Jimmy V. week, the greatest speech in the history of the universe: