I came across one the
best posts
I've ever read, which inspired me to ignore my work duties and find some more links.
-First, let's give you some of
Captain Caveman's brilliant words
:
The Steelers are the cancer of football teams: it usually wins, it's a depressing pain in the ass, and anyone who cheers for it is an asshole.

Go ahead and count me as Pittburgh Steeler Hater Number One. I fucking LOATHE the Steelers. I despise them far more than any other franchise on the planet. And that's saying a lot, because if the Italian national soccer team's chartered jet collided with the Yankees' team plane, I'd happily burn my penis jerking off on the flaming wreckage.

…

No, what makes the Steelers the most loathsome team in all of sports are their dickface fans. The front-running fucks who fill up sports bars in their jerseys all over the country. Funny how Pittsburgh is one of the smallest markets in the NFL, penned in regionally by teams from Cleveland, Cincinnati, and Philadelphia, and yet its fans are miraculously strewn all over the country in large numbers. Why, it's almost as if most of them only became die-hard fans because the team is so successful!

…

FUCK YOU, Steelers fans. Fuck your shitty city, fuck your shitty field, fuck your excellent football team, and FUCK YOU.
The purveyors of this site couldn't have
said
it
better
ourselves
.
-Asante Samuel and Brain Dawkins were
named to the Pro Bowl
as reserves. Why? I have no idea.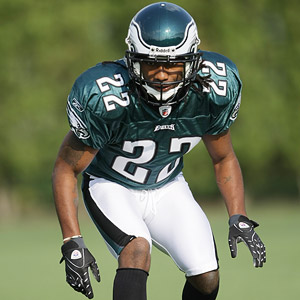 -My boy Antone gives
Dionte Christmas some love
.
-
Funny quote
Phil Dawson:
When asked how it felt to eclipse the franchise record for most field goals in a season, Phil Dawson, kicker of the 4-10 Cleveland Browns, said: "There's an old saying back in Texas that says, 'You know that white speck on top of chicken poop? It's still chicken poop.'"
-Shawn Marion is a
perfect fit
for the Cavs.
-Nate Robinson
went off
last night.
-T-Mac had a
triple-double
last night.
-SLAM has a
new design
. I'd love to link to some shit, but I can't find anything on there yet. It's too early to really judge, but I don't think I like it.
-For more redesigns,
Deadspin's sucks
while
Hugging Harold Reynolds' is cool
.
-
Visual evidence
of Starbury attending the Knicks-Lakers game in LA as a fan.
-Inside the
Paterno contract negotiations
.
-I just love
this headline
: "Danny Briere continues MVP season for Flyers"
-Shoals talks of the age limit and the
rising of the point guard
. Oh, and he gives us this:
I love Josh Smith. There, I said it. Wish we had him instead of Brand and/or Iguodala.
-Kevin Newsome is
awesome
.
Find more videos like this on PrepTicket
-The
Philly.com sports page
is loaded with good articles today:
The Siran Stacy tragedy
,
McNabb's future in Philadelphia
,
Bill Conlin's take on Ibanez and Park
, Some
love for Jason Avant
.