There was so much going on this weekend in the world of sports that I don't even know where to start. The Phils took two of three from the Mets, Penn State routed Oregon State, the Eagles played nearly flawless, Tom Brady looks like he's done for the year and the Bears completely dominated the Colts. That's quite a bit to digest in three days.
I guess we'll just go in chronological order. Apparently, Brett Myers was flat-out unhittable Friday night and Greg Dobbs carried a big stick, but I really can't confirm it with what I saw, because I was driving to State College with Arkansas Fred for Penn State's game with Oregon State.
When I got to the bar in my old college town, I started throwing back beers (thanks to Arkansas Fred's former roommate tending the bar) and got quite the good buzz going. When I looked up to scan the bottom line on ESPN, I see a 3-0 Phils win thanks to a dominate 8-inning, shutout, 10 strikeout performance from Myers. I wasn't sure if I was seeing things or not, but lo and behold, Brett completely owned the Mets, continuing his incredible second-half stint, and the Phils drew within two games.
On Saturday, I was disappointed to hear the Phils game got rained out, but I was also pretty happy I wasn't going to miss it. Apparently back east in both Philly and New York, Tropical Storm Hanna was wreaking havoc. In State College, it drizzled a little for about an hour in the morning. Anyway, I spent the morning recovering from a hangover and watching college football and the preshows.
During "Sportscenter" and "College GameDay," on one segment the broadcast was sent out to Holly Rowe, who was on the scene of one of the games (I can't remember which) that was being pounded by Tropical Storm Hanna. This made me incredibly sad, for you see, ESPN missed a golden opportunity to do something it may never have the chance to do again. ESPN could have, in some way, shape or form, put anchor Hannah Storm on a story about Tropical Storm Hanna. But it didn't, thus losing a chance to have Hannah Storm covering Storm Hanna.
Anyway, I left the house I was staying at for Beaver Stadium with Michigan struggling, Wisconsin struggling and Ohio State struggling. That was pretty sweet. Unfortunately, all three teams won, as did Notre Dame who was losing last I heard, but East Carolina showed it's the real deal, toppling West Virginia for another major upset in two weeks. Apparently, people named Holtz can coach.
So, as I walked from Pugh and College to the stadium, I really longed for my days as a college student. Young, attractive, scantily clad women were all around, and I never wanted to leave. It was an orgy for the eyes. And I loved every second of it. The view isn't quite as nice on the El in the mornings. SEPTA really should work on that.
The walk brought back memories, and I was getting pretty excited for the game. Then I got to my seats. Let me tell you all something right now: alumni tickets blow. In my four years at University Park, I grew accustomed to standing in the student section for four quarters, getting excited and being surrounded by college girls. Certainly, there were plenty of annoying idiots that knew nothing about football, but hell, they were my classmates and like I said, there were lots of attractive young ladies.
In the alumni tickets sections, specifically WBU, there are a lot of old people. And I mean really, really old people. Like people that make Jamie Moyer look like he's in kindergarten. Some of them look like they could keel over any minute. It's frightening. These people, while mildly creepy, aren't that bad. They like football. And Penn State. And they don't talk too much. But then, there they were. The three Penn State cowboy hat wearing, loud-mouthing old men who Arkansas Fred warned me about. They sit two rows in front of us, and they are sad, pathetic old men.
Basically, they are the guys, ranging from low 30s to upper 40s, who truly believe they are still in college. They get drunk in the tailgate, come into the game and do everything in their power to draw attention to themselves. The actual competition on the field is secondary to making sure everyone in the section notices them. That, my friends, is complete bullshit. Now, I must say that they are not quite as annoying as I anticipated, given the dire situation Arkansas Fred laid out for me, but this trio is flat-out gay. Literally. The youngest of the group is without question the most afeminine guy I've ever seen at a football game. The other two, clearly in in their 40s, are complete assholes. They spent more time making sure to signal first downs every time Penn State got them and looking for people to throw up in the air after scores than watching the game. They suck. At life. I hope they get in a horrible car accident so I never have to see them again.
Luckily, there was a game that I spent most of my time focusing on, not to mention two young ladies, both with incredible physiques, sitting in front of us for most of the game. The one was pretty much retarded, but she was hot. The other had one of the nicest butts this side of the Mississippi, or so I've heard. They, along with the game itself provided some good entertainment.
Penn State completely steamrolled, and virtually everyone looked good. Evan Royster ran up and down the field, the receivers got open on virtually every play and the defense was pretty dominant. Andrew Quarless actually dressed for the game, despite his
previously announced suspension
, because, according to Joe Paterno, developments came about that indicated Quarless was not involved. However, Quarless did not play, and A.J. Wallace saw limited time as well. I do have to say, I was unimpressed with Daryll Clark's throwing. Many of his passes were high, behind or simply off target, but the Penn State receivers did a nice job hauling them in regardless. I guess it's hard to argue that Clark looked bad, but his accuracy wasn't as on point as I've heard he has been. Still, he played well, and the Lions rolled.
However, it wasn't all good news out of Happy Valley. My favorite player on the team, junior defensive end Jerome Hayes, suffered a
torn ACL on an illegal chop block in the fourth quarter
, ending his season for the second straight year due to an ACL injury. This sucks big time.
When healthy, Jerome Hayes has been a beast. He's virtually unblockable coming off the edge. Now he's gone. And with the pending status of All-American Maurice Evans and tackle Abe Koroma, in addition to the dismissal of Phil Taylor and Chris Baker, the defensive line depth has taken another crushing blow. This shouldn't matter in the coming weeks against Syracuse and Temple, but then it's on to the Big 10 schedule, with Illinois coming to town. Great win. Shitty injury.
The game was boring as hell after halftime, and Arkansas Fred and I left, went and ordered our customary three sandwiches each from McDonald's — two double cheeseburgers and a McChicken for me, the opposite for Arkansas Fred — to revive our old tradition back in our glory years of living in State College. Then, thanks to Arkansas Fred having to work at 5 a.m. yesterday, we headed back to the Philadelphia area. What an asshole. I couldn't even enjoy the abundance of college vagina on a football Saturday night. Arkansas Fred is a dick. The ride sucked, but at least we washed down our postgame meal with some Taco Bell. We're all about health here people.
Finally, the first Eagles Sunday was upon on yesterday, and I gotta tell you, I spent the day the way every Sunday during football season is meant to be spent. I awoke roughly at 11:30 a.m., went downstairs, laid out on the couch and watched the pregame shows on our ginormous TV. All by myself. It was great.
When the Birds finally came on, it was like 2004 all over, at least for one game. The Rams put up absolutely no fight, and the Eagles looked like world beaters. Donovan was incredible, the defense was dominate, Westbrook was Westbrook, DeSean Jackson exploded onto the NFL scene with over 100 yards receiving and 97 return yards, basically everything was perfect.
Quintin Demps made some incredible special teams plays. Sav Rocca proved he can, in fact, punt. L.J. looked like L.J.—some great quickness, nice moves, a touchdown and three horrible drops. Just another day in the life of L.J. Smith. Asante Samuel looked every bit like the best corner on the market, although he should have caught a couple picks. Hank Baskett scored on a 90-yard pass. The game was a joke.
It may have only been the Rams, but it was good to see the Eagles do exactly what they were supposed to. Everyone looked great. And Sheldon almost decapitated Steven Jackson.
It was fun to watch. Meanwhile, the Phils were taking care of business against the Mets, to the tune of a 6-2 win behind the left arm of Jamie Moyer, who completely silenced the Mets' bats. Unfortunately, I couldn't flip to it because it wasn't on TV. What the fuck?
Anyway, the rest of the day was great, too. We have the NFL Ticket now, to go along with Comcast, so I was watching all three late games. Sure, it sucked that Carolina won on the final play of the game, but it was exciting. I mean, it didn't help out the Eagles' draft pick position from the Panthers, but it was thrilling television. Plus, Tom Brady got hurt! Probably out for the year! No more dealing with New England! That is great news, especially since that asshole went to Michigan. Fuck Michigan.
Although I do have to say, it was sickening listening to Tom Jackson, Chris Berman, Trent Dilfer and John Saunders grieve the loss of Brady. They talked about it for practically the entire show after the games, and said how sad it is for NFL fans. Fuck that! That is awesome for every single NFL fan not from
New England
, which is about 99 percent of us because the real Patriots fans are few and far between. They love the Red Sox up there. Fuck them.
I'd also like to extend a hearty fuck you to Carson Palmer. Everyone on my fantasy team did quality things. Except you. Three fucking points from my quarterback!? Really? Fuck you, Carson Palmer! Fuck you in the goat ass! This is just more proof LJ deserved the Heisman over you. Oooohhh, you beat Notre Dame on national television. Big fucking deal. Rush for 2,000 yards in the Big 10 and then come talk to me, you USC pussy.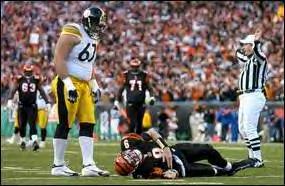 Kimo von Oelhoffen should have finished the job.
Sorry for that tangent. Now onto the Phils last night …
So apparently Cole is a baby for a reason: When he gets moved up a start, even on normal rest, he fucking sucks. Seriously Cole, way to choke away a chance at the sweep and pulling even with the Mets.
After the Fightins spotted their "ace" a 1-0 lead in the first, Cole couldn't get past the fact that he might injure himself and decided to pitch like Adam Eaton. Right after going up a run, Cole gave three right back. When Howard hit a bomb to bring the Phils within one, Hamels made sure to give that run right back by letting Carlos Delgado treat him like his personal whipping boy. Then, just to make things that much tougher against Johan Santana, Cole became Delgado's best friend, giving up another gopher ball.
And that was that. Johan showed the world what a real ace is supposed to do in a big game. Cole showed, that while incredibly talented and very, very good, he still has a ways to go to become the elite pitcher he surely is on the brink of becoming. It was a frustrating way to end the weekend, but still, it's hard to complain.
This was a great weekend all told. The Phils took two of three from the Mets to stay in it, now down 2 games with 19 left. And they picked up
Tadahito Iguchi
to try and recapture at little 2007 magic. The Eagles looked like they just may be a team to be reckoned with. And Penn State had no trouble with the Beavers. All in all, not bad. Not bad at all.