Dear Mr. Kendrick,
I hope you enjoyed your stay in the Majors. I'm sure you weren't really expecting such an extended stay when you were called up last June, but man, you sure were able to string out that stay.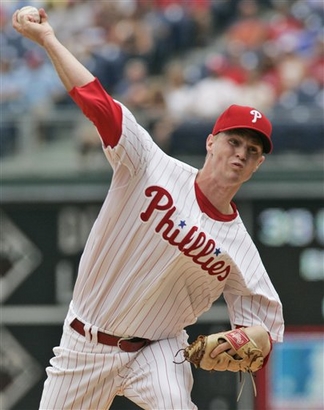 Honestly, you earned this lengthy trip. You really did. Last year, where would the Phillies have been without you? Most likely not playing in October, that's for sure. But Kyle, that was the past. This is the here and now. And here and now, you suck. Big time. Like, you so suck so bad that Adam Eaton actually looks like a better alternative. Adam Eaton.
I don't blame you, Kyle. I really don't. You should have never really been in the Major Leagues in the first place. Quite frankly, you just don't have the stuff or location to be there. But, thanks to the Phillies management's consistent ability to overlook pitching, here you are/were, asked to do something you really shouldn't be asked to do.
For a while this year, you were going well. Heck, you were 8-3 at one point in time, and actually looked like a quality fourth starter. But as Brett Myers has shown us this year, things can change just like that. And they have. Turns out, what you were doing last year and early this year was simply done with smoke and mirrors.
You are no longer welcome here, Kyle. I hope you enjoyed your stay. You won't be back for a while. Time to pack up your things, hit the showers and get lost.
Sincerely,
Reverend Paul Revere
Sweet Jesus, was that a horrible game. I mean 1 1/3 innings? 7 earned runs? Really? At least give your team a chance there, Kyle. Damn. Then Happ comes in and gives up two bombs, and before you know it, the Phils are facing a 9-1 deficit in the 4th freaking inning. What the hell?
I mean, the Phils made a great effort in the comeback, highlighted by Ryan Howard's continued offensive explosion but … Damn! That was quite possibly the worts pitching performance in an important game I've ever seen. I know, I know. Chase had a chance to tie the game with a base hit in the 6th and couldn't come through. But when you score 8 runs, against a third-place team, in September, in a pennant race, you should win. Every time.
I'm sure glad Gillick and Co. didn't even try to resign Kyle Lohse when his market value dropped or even trade for Randy Wolf at the deadline for what would have been nothing. Wolf picked up a win last night by the way, going 7 innings giving up just 3 runs on 4 hits.
While Jayson Werth has stepped up to the plate and proven he belongs in the lineup (two more steals last night), Kendrick has faded fast and proven he doesn't belong in any big league rotation. Now the Phils are 2.5 behind the Mets and missed a golden opportunity to get within two of Milwaukee in the Wild Card, who they trail by three games still.
Sayonara, Kyle. It was nice knowing. Except for last night, and the entire second half of the season. I hope to never see you again.