With the Flyers inviting all 15 captains in team history for a preseason game at the Spectrum on Sept. 27, a
big stink
has been about Eric Lindros not attending.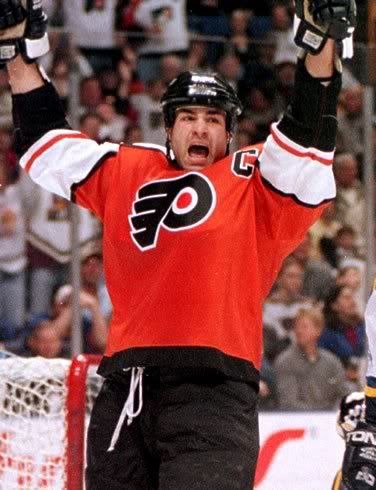 It's disappointing to hear, for sure, but at least Lindros isn't simply leaving Philadelphia in the dust. He sent a letter to the Flyers, explaining his absence, and it kind of makes me feel good inside. From
Philly.com
"I'm unfortunately unable to attend the ceremony at the Spectrum because I will be attending a memorial service for my close friend's mother who recently passed away," he said. "The Spectrum holds many special memories for me, and I always enjoyed playing there in front of the great Flyers fans."
While Lindros' time here in Philadelphia was anything but smooth, No. 88 never once bashed Philadelphia fans. His problems lied mainly with Bobby Clarke and team physicians, not the fans. Say what you will about the guy, but he busted his ass every night and put forth one of the greatest, if short, Flyers careers of all time.
His rollercoaster relationship is summed up very nicely in this video, but the part that really should make you remember Lindros fondly comes at the 1:39 mark, during his acceptance speech for the Hart Trophy.
Even though you won't be there on Sept. 27 Lindros, I'd personally like to thank you for showing me some of the most exciting, dominating hockey I've ever witnessed in my life.