I gotta tell you, this whole four-day wedding weekend has really thrown off just about everything in my life here in the short term. By some miracle of God, today is Tuesday, although my body tells me it is a Monday.
That's the good news. It's Tuesday. The bad news is I saw very little sports this weekend, despite it being the first weekend of college football, thanks to my sister's wedding. Now, I won't get all uppity about it. I did many things over the weekend to make up for it, and frankly, I don't regret it. What I do regret is not seeing Derrick Williams' kickoff return, although I did hear it on the radio.
Shitty video, but it's the only one I could find.
All in all, it sounded as though Penn State looked just fine, although from what I'm hearing from Arkansas Fred, I'm in for a rude awakening with the fans in our section. Honestly, if you wear a cowboy hat in Pennsylvania, actually anywhere, you should be shot. Unless you look like this: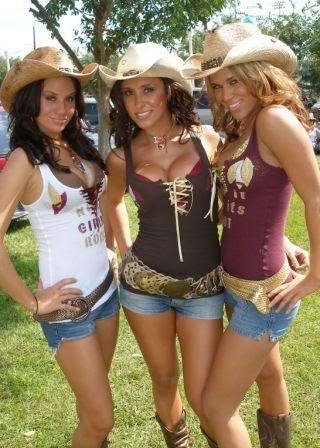 On a bright note, Tony Hunt made the Eagles. He earned it. And man, that guy was a beast in college.
Sad to see McDougle cut after finally having a solid preseason, but he had more than enough chances in the past to validate his first round selection. The Eagles should be fine on the defensive line without him. And Rocky Boiman sucks. I'm glad to see him gone. Let this be a lesson to the Eagles, white linebackers should never been brought in through trades, free agency or any first or second round draft pick. Ever. Unless it's Urlacher or Poz and maybe Connor. Remember Mark Simoneau? Or Matt McCoy? Yeah, they sucked. And so did Boiman. Glad to see him gone. Now Stewart Bradley, it is up to you to get white linebackers back in my good graces. God knows you guys need it.
As far as the Phillies are concerned, what more can I say? Matt Stairs is old, slow and can sometimes hit. Great pickup. Adam Eaton is back. Really. I'm not making this up. The guy couldn't even get minor leaguers out. Now he's here to help the Phils overcome a 2-game deficit to the Mets. Yeah, right. No Carlos Carrasco. But at least Golson and Marson are up. Hopefully Charlie will let them play.
This division is so freaking pathetic. I don't expect either the Mets for Phils to pull away. And either team will lose in the first round. Unless Sheets is dead. Which he isn't.
Oh yeah, and last night's UCLA-Tennessee game was awesome. I'm all sorts of pumped college football is back.
That is all. Hopefully, after I'm done catching up on work, I can read about what's going on in the sports world and share some cool things I find. If not, I don't really care. I had a pretty nice little Saturday even if I didn't get to see any football. I can't imagine I'll ever say that again in my life.