After watching that debacle which was the end of the game last night, I have the strangest feeling like I want to find every Cowboys fan alive, have their parents killed and then feed them their parents in a bowl of chili.
Seriously, that was the most infuriating, ridiculous game in the history of games. The Eagles should have easily won by 10 points, if not more. But no, they had to go and give the God damn game away. What a typical ending. You would think after 10 years together, Donovan McNabb and Andy Reid would have this 2 minute offense down pat. Well, think again. The Eagles are still, by far, the worst clock management team in all of football. (OK, maybe not the
worst
)
First and foremost, let me get this out of the way: Sean Considine is not an NFL player. He's not a CFL player. He's not even an NFL Europe player. At best, Sean Considine could play for the Philadelphia Soul. Maybe. As a backup. He sucks so bad at football that Reno Mahe, Sean Morey and Freddie Mitchell look like Hall of Famers next to him. Why the fuck was he in the game? Honestly? Can anyone answer this question?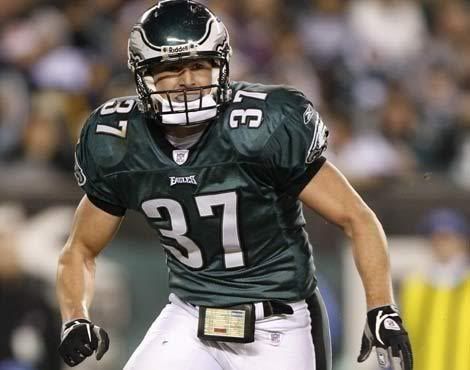 Immediately when I saw T.O. burn Considine, who bit horribly on a stare by Romo, I asked this question: Why the fuck is Sean Considine in the game? Didn't the Eagles learn their lesson the first time around (pre-inury)? This guy cannot play. At all. He sucks at covering, he sucks at tackling, he sucks on special teams, he sucks at life. Under no circumstance should he even be allowed within 20 yards of the field, yet there he was, pass down after pass down, out on the field. Jim Johnson, are you out of your God damn mind?
If every safety on the team was lost for the entire season, I still wouldn't put Sean Considine in the game. He should have been cut two years ago. I hate him with every single ounce of hate I have in my short, hairy body. This is how bad he is: Arkansas Fred sent me this message immediately after that travesty of a burn job:
Considine should have been cut three years ago. He is worse than Reno ever was.
And you know what? He's right. 100 percent. Sean Considine, I invite you to kindly go get fucked.
Oh, but the screw-job didn't end there. Jim Johnson should be raked over the coals for his horrific job calling plays defensively. For one, how do you expect Brian Dawkins to cover Terrell Owens on the goal line? I mean, in a million years could Dawkins ever cover Owens 1-on-1? No. That was completely conceding a touchdown. And, in case you forgot Jim, Tony Romo hates pressure. He hates getting hit, and when he does, he sucks. Like last night, when you brought pressure which allowed Asante Samuel to get his first interception as an Eagle. Or when that asshole dropped the ball in the end zone, something he has a penchant for doing.
But no, for the majority of the game, you decided to rush your four tiny defensive lineman against a mammoth offensive line, didn't you Jim? And you know what happened? Tony Romo had all day to throw the ball and picked apart the Eagles' D. Oh yeah, and you decided to play Lito Sheppard,
notorious Dallas killer
, sparingly. No matter that he always, always comes up huge against the Cowboys. Last night, you didn't even give him a chance. What. An. Asshole.
And speaking of assholes, I love you DeSean Jackson, I really do, but what the hell were you thinking on
this
?
I mean, honestly. This ain't the Pac-10 anymore, DeSean. You better get your shit together. If you ever even let go of the ball before you're 5 yards deep in the end zone on a touchdown again, you should be forced to give back your entire signing bonus. Get your head out of your ass.
And finally, Donovan, I am quite possibly your biggest supporter on earth. I support you all the time. I stick up for you when others try to tear you down. But man oh man was that a horrible choke job. All game long, you were brilliant, hitting every receiver and escaping the rush just as we've grown so accustomed to you doing. You were leading the Eagles right down the field, putting up point after point, and you looked like you just may be back to the unstoppable force you've been for so long.
And then, the fumble. A horrible fumble at that. Clearly, as much as I would like to give you the benefit of the doubt, that was in no way, shape or form Brian Westbrook's fault. You faked the handoff, which Westbrook clearly sold, and then you stuffed it back in his rib. I'm guessing you were supposed to give it to the receiver on the reverse, but instead, you put the ball on the ground, and the Cowboys recovered. Instead of continuing a drive that looked destined for at least 3 points, if not 7, the Cowboys recovered, marched down the field, and went ahead.
I felt sick to my stomach. And that was before the final few plays. Jesus fucking christ, are you serious with that shit? I mean, a sack on 3rd down? And a hook and lateral on 4th down and 17 instead of actually throwing it past the sticks? That was completely inexcusable. Remember that time you had 4th and 26 and converted? No? Let me refresh your memories.
Yeah, it can happen if you actually throw the ball downfield. What a fucking joke.
And the special teams looked like 2007 all over again. It was almost as if the Eagles' coverage team was allergic to Felix Jones, the way they were kindly getting out of his way. And the return teams didn't do jack except for the one nice return by Demps, which couldn't cancel out the 15 great returns by the Cowboys.
In summation, fuck Andy Reid, and Jim Johnson, and Donovan McNabb, and most of all, fuck you Sean Considine. That game was a travesty. And now I gotta get up early and go to work. All pissed off. With a ton of shit to do. God I hate the Cowboys.
The one bright note of the day: The Mets lost, bringing the Phils within a half game of the division.