By all accounts, Jim Johnson is a bright man and an excellent defensive coordinator. Were he a younger gentleman, he would certainly have been a hot commodity for the myriad head coaching jobs that were vacant over the last few seasons. I know he already has forgotten more football than I will ever even acquire in my lifetime.
Having said that, I have a suggestion for Jim Johnson for Monday night: Let Lito loose. Now, if you're to be held to your words from the preseason, Lito will be on the field for 60 to 70 percent of the defensive snaps on Monday. I sure hope you stick to that because Philadelphia's favorite disgruntled cornerback absolutely
kills the Cowboys
. Like to the tune of 8 interceptions in 10 career games against the Cowboys, including the two longest interception returns for touchdowns in Eagles history. This 102 yard return against Drew Bledsoe in 2006 and a 101 yard return against Vinny Testaverde at Dallas on Monday night in 2004.
The man has shown a penchant for containing Terrell Owens, and when it comes to Dallas, Lito always, always come up with a big play.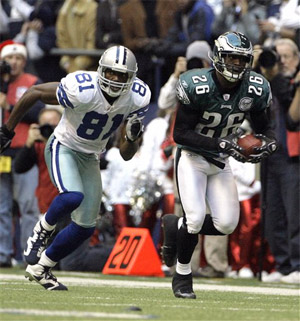 So please, Jim Johnson, please let Lito loose. This is where Lito shines. Against Dallas. Under the bright lights. Against big time competition. He deserves to be on the field early and often on Monday night, and frankly I cannot wait.
With Asante Samuel and Sheldon Brown (another
Dallas killer
) manning the secondary along with Lito, the Birds should have no trouble containing the Dallas aerial assault. And maybe some extra playing time can cool down Lito. Or maybe his frustrating situation can at least give him even more motivation to destroy the Cowboys.