As if it wasn't abundantly clear in recent weeks, Jayson Werth, he of the
flavor savor
, is absolutely an everyday player.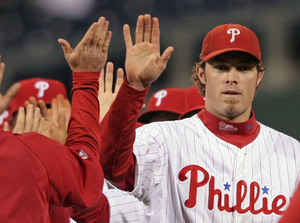 Simply put, the man can do it all on the baseball field. Certainly he's not the best player no one's ever heard about, and he's not close to the best player on the team, but he could very well be the most complete player on this Phillies squad. At 6'5" 225, Werth looks like a string bean out on the field and actually a little
awkward
in a game of small, fast guys and big, hulking bombers.
But once he steps between the lines, Werth becomes a fluid, impressive player. If not for a lengthy list of wrist injuries, he may have emerged in Los Angeles. No offense to Jayson, but we're all glad he didn't. Otherwise the Phils may have never been able to get him, and that would be a shame. The guy can run. He can throw. He can hit. Defensively, he's every bit as good as any right or left fielder in baseball. He covers ground like a centerfielder (which he plays occasionally to spell Shane Victorino) and throws like Ichiro (almost).
On the bases, he is the best baserunner on the Phils roster. That includes Jimmy Rollins, Shane Victorino and Chase Utley, all great baserunners in their own right. His long frame allows him to get the extra base or get an easy steal even though he doesn't look like he's moving all that fast, and his knack for when to go and when stay put is uncanny. At the plate, he absolutely kills lefties. This season, against southpaws, Werth is batting .304 with a National League-leading 15 home runs, 33 RBIs and .667 slugging percentage.
Overall, he's batting .277 with 22 home runs, 59 RBIs, 14 steals and .519 slugging percentage, in just 116 games. He's second on the team in slugging and on-base percentage, behind only Chase Utley in both categories. And of late, he's even been hitting righties, as he's been given a greater opportunity to face them. Last night, he showed just how far he's come against righthanders, smashing what turned out to be a game-winning 3-run home run to center in the seventh inning off Florida's Joe Nelson. And the man got a well-deserved curtain call from the Philly faithful.
It was a huge home run from a player that has been coming up huge for the Phillies all year. The 8-6 win brought the Phils to 1.5 back from the Mets and, thanks to a Brewers loss, 3 games back from Milwaukee in the Wild Card, with the Brew Crew coming to town Thursday.
With Pat Burrell slumping mightily of late and Geoff Jenkins doing nothing all year, Werth has been the most steady, most reliable outfielder accompanying Victorino in center. His play has elevated when the team needs him most, and his skills continue to evolve. Without Jayson Werth this year, the Phils would be in some big, big trouble. Now given a chance to play every day, he's made the loss of Aaron Rowand much easier to take. Truth be told, I think Werth is a better all-around player than Rowand. Don't get me wrong, Aaron gave everything he had and was an integral part of the Phillies, but he didn't have the speed, arm or baserunning ability of Werth. And this year, he's actually having a more productive season than
Rowand
, in far less games. Though to be fair, Rowand is playing for a horrible San Francisco team.
I, for one, am glad Charlie has turned the corner and given Werth a chance to play every day down the stretch. He's proven he can do it and do it well. In fact, he's proven to be one of the most important players on the team, and one of the most underrated talents in all of baseball. Thanks to his heroics last night, the Phils are keeping their postseason hopes alive, and Werth is quickly becoming a fan favorite in Philadelphia.