This weekend is huge. I know it, you know and surely, the Phillies know it. At least I hope, because it sure didn't look like Brett Myers got the memo on Wednesday. The Phils do control their own destiny, but wins last night by both the Mets and Brewers mean the Phils have only a one-game lead in the division and the wild card. There's not much room for error, so they must, MUST win tonight. Ånd they have this guy taking the mound: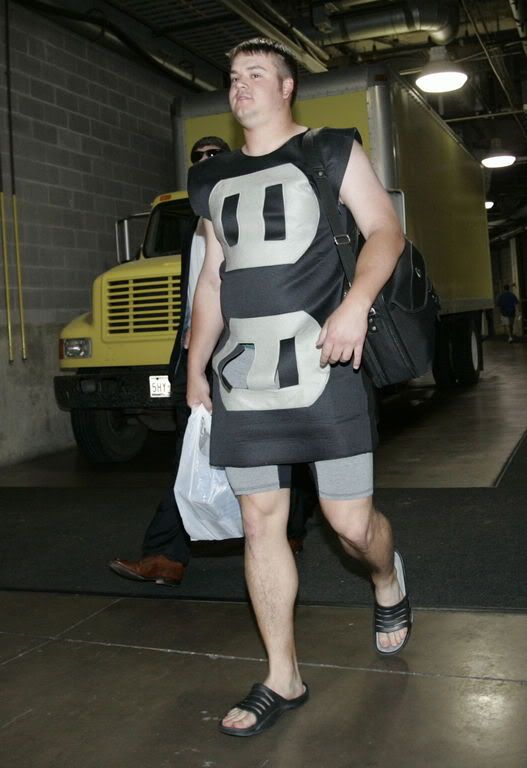 Sweet Christ! Don't fuck this up, Joe Blanton. We need you, in all your rotund glory, to pitch the game of your life tonight. And you better make damn sure you do. It's the fucking Nationals here. Like, the worst team in the entire sport that is set up for
epic fail
.
It's going to be a nerve-wracking weekend, and
Bill Conlin
had an awesome article discussing just that. My favorite lines in a article full of great lines:

The pre-meetings rotation would have staff ace Cole Hamels starting a meaningful game Sunday. (Sorry, Jamie, we know who really is the staff ace this year but have to follow protocol.) But should the Phillies clinch the division tonight or tomorrow, he could throw a side instead and be ready to open the Division Series on Wednesday. However, if Myers has used up his quota of trust tokens, Manuel could use the 2 days off to flip him with Moyer.
Well said, Bill. Well said.
Photo courtesy of Deadspin.
Ryan Howard is no longer the strikeout king. Via
The Fightins
:
The undesirable distinction of single-season strikeout leader now belongs to Mark Reynolds of the Arizona Diamondbacks, who earlier today became the first MLB player to ever surpass 200 K's in one season. Last year, Ryan Howard broke the record previously held by Mark's teammate, Adam Dunn, when he whiffed 199 times.
200 strikeouts. Yikes. Howard can and will still probably get there, but I never thought anyone else would do it.
Fredi Gonzalez wants to
beat the Mets
very badly, and I respect him for it. Via
Walkoff Walk
:
"We're going to jump from the frying pan right into the fire and be in a significant series - 'spoiler' or whatever you want to call it," Gonzalez said Wednesday before the Marlins played the Washington Nationals.

In explaining why he was putting some young Marlins prospects in the lineup Wednesday against Washington, Gonzalez noted that, "If everything stays the same, we're getting ready to go play a real significant series in New York."
Yes sir. A repeat of 2007 would be great.