In case you haven't heard, the Phillies have kind of a big series starting tonight. Trailing the scum-sucking leeches from Queens by three games, the struggling Fightins take their act to Shea for the final time ever in the regular season with a chance to pull even with a sweep.
While the likelihood of a sweep is far from a lock, it's still in the cards. However, it will take getting through a red hot Mike Pelfrey, old man Pedro (maybe) and some lefthanded nobody named Johan. Not to mention a white hot Mets lineup and a surprisingly reliable bullpen of late. Things don't look so bright.
The Phils have been struggling, especially in the eighth inning, and unlike last season, they've been owned by the Mets. Seriously. To the tune of 5-10. It's been the bizarro world of 2007. The Phils got out to a lead, faded fast and now the Mets are playing well at the right time.
The good news for the Phils? They're still just three games out, and tonight they have Brett Myers, who has been their best pitcher since the All-Star break, on the hill. With the way Brett is pitching, the Phillies couldn't have asked for a better player to hand the ball to. And make no mistake about, Myers must win tonight.
The Phillies have to, absolutely have to, take at least two of the three games this weekend. Losing tonight would put an awful lot of pressure on old man Moyer tomorrow and mean Cole would have to outduel Johan on Sunday. That certainly is not out of the question. For the most part, Moyer has been solid, and Cole is certainly capable of going toe to toe with the best. It's just, when push comes to shove, do you really want to be the farm going against Santana? I say no.
If the Phils don't win two games up in New York this weekend, they're dunzo. Kaput. Left for dead. The Mets won't let 2007 happen again. They aren't going to hand the division over to the Phils for a second straight year. The Phils will have to earn it. Seeing as this is the last time these two teams will square off, the series is that much more important. It's the last time they control their own destiny in regards to the Mets. Drop two games, and the Phillies would need a lot of help from some not so great teams.
So, a sweep is the goal and winning the series is a must. In order to do that, the Phils obviously need to get good starting pitching and Rollins, Utley and Howard need to be the players they're capable of being. Those are all givens. But this series may very well come down to two factors for the Phils: Pat Burrell and the bullpen.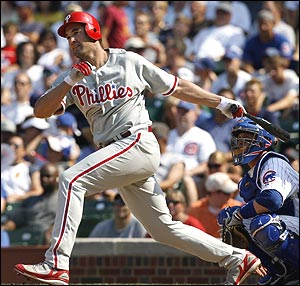 First we'll start with Burrell. Pat has been absolutely atrocious down the stretch. He's forgotten how to hit. He's looking at called third strikes. He's lunging at pitches he couldn't possibly reach. Basically, he's morphed back into Pat Burrell. For the Phils to really explode offensively, Burrell's bat is needed, whether he's hitting third, fifth or sixth. They need another bat to protect Howard and Utley, and as good as Jayson Werth has been, when Pat is going good, he's a more potent threat.
He'll need to turn things around to give the Phils a fighting chance. Luckily, Pat has been a notorious Met killer in his career, especially in Shea Stadium. It would only be fitting if he gave Shea a nice going away present to the tune of three or four home runs in his last hurrah there.
Now on to the bullpen. Throughout the year, the Phils have been lauded for an impeccable bullpen. But we all knew better. Ryan Madson, while putting up modestly good numbers, is not good. We all know this. Chad Durbin has been amazing all year long, well, until the last few weeks anyway. The converted starter looks like he's completely out of bullets, and it couldn't have come at a worse time. J.C. Romero has been solid all year, but he hasn't been as unhittable or had as good of control as he did in 2007 for the Phils. His rough spots that have come of late are precisely why Boston let him walk last year. Scott Eyre has been very good, and Lidge perfect, but the eighth inning has absolutely been a killer for the Phils lately. I never thought I'd say this, but the Phillies actually miss this guy:
Honestly, they do. I'm not making this up. Sure, Gordon struggled in the few games he was healthy this year, and he is Philadelphia's favorite bullpen whipping boy, but Tom Gordon is an experience setup man who has had a ton of success in that role, including being nearly unhittable last year in the stretch run. Tom Gordon should would come in handy right about now.
If the Phils really do plan on making the postseason for the second consecutive year, Durbin and Romero, more than anybody, must return to form. And Madson must somehow muster up enough quality innings to keep things close. There can be no more blowups in the seventh or eighth innings. Just can't.
So tonight we watch as the Phils speed up I-95 to that toilet bowl of a stadium for one final time. When they come back Monday to take on those pesky Marlins, they'll either be scaring the bejesus out of the Mets once again, or left dead on the side of the highway. It all starts with you tonight, Brett. Give 'em hell, and please, give me hope. I don't want to live in a world where the Giants are Super Bowl champs and the Mets get revenge. I just don't.